We will learn how to open a banksathi account step by step. so, continue reading this page to learn the account opening process. Read all The Steps of Account Opening on the page below👇👇 Before filling out this form and starting the Banksathi account opening. Otherwise, you will miss some steps and your work will be wasted and will get No Earnings. (Video Tutorial at the end of this page)
STEP 01: Fill out the Above Form and Start the Process of Account Opening
Fill out the above form with your Name, Best Email, and Mobile number, and click on START Profile CREATION.
STEP 02: Download the BankSathi App Install and Open
When you open it the first time, the banksathi app will ask you to select a language out of English, Hindi, Telugu, Marathi, or Bangla. choose any language of your choice; for example, I choose English.
Now, the Instructions pages will be open. It is your choice to read or keep forwarding by pressing the Next button or using the top right corner Skip button.
Now, Click on Get Started button. The next login Page will be Open.
STEP 03: Log in to Continue on the Banksathi App
Enter your mobile number (your mobile number must be linked with your Aadhar card) and submit, you will receive OTP on your mobile number. Enter the OTP and Click on the It Me button to Continue.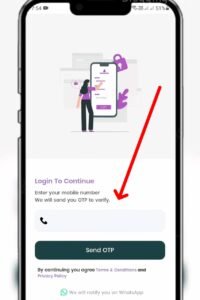 STEP 04: Enter Referral Code 841503121 then Click on Next
Enter Referral Code 841503121 then Click on Next. If you go through the above link (form) sometimes the Referral code 841503121 will be entered automatically then you have to click on the Next Button.
STEP 05: Do KYC Verification on the BankSathi App
To complete your KYC verification. You will be redirected to Digi Locker. When you click digitally the Digi locker login page will open. Enter your mobile number linked with Digi Locker and PIN then you will be able to log in to Digi Locker.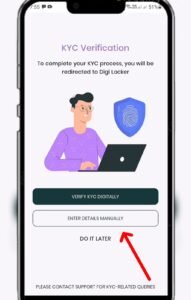 For Manual KYC, you have to enter your 12-digit AADHAR card number. Then click on Verify Now, You will receive 6-digit OTPs on a mobile number linked with your AADHAR card. Enter the 6-digit OTP and click on IT`S ME then your AADHAR KYC is done. Now, You have to do PAN Card KYC.
STEP 06: Do PAN Card KYC on the Banksathi App
For PAN card KYC you have to enter your PAN card number only click on Continue and Save then your PAN card will be verified. Date of Birth and Your name automatically will be filled from the AADHAR card.
STEP 07: Set MPIN on the Banksathi App
The next step is setting MPIN. For this, you have to click on Set Up M-PIN. You have to create 6 digits M-PIN then click on get OTP. You have to enter 4-digit OTPs and click on the IT`S ME button, now your M-PIN setup is complete.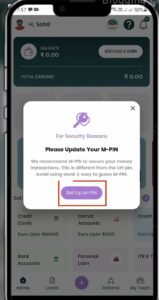 Congratulations. Your BankSathi account opened successfully.
Learn by Video: How to Open Banksathi App Account in Hindi